Japanese Calligraphy Artist : Masumi Narita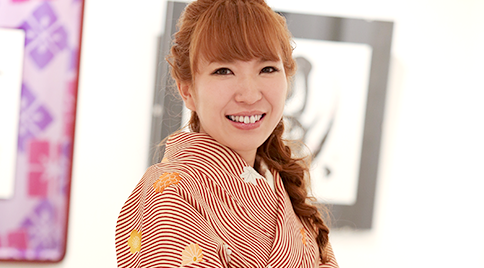 Born in Tokyo Japan in 1983. She began calligraphy at the age of 6 and qualified herself to be a professional calligrapher in Japan Ministry of Education at the age of 19.
She set up her calligraphy school called "Shinwa-kai" in 2008, has currently expanded and approximately 150 students learn from her.
Masumi regularly hold exhibitions with her students once every 3 years in Tokyo. Moreover, many enterprises submit her to do calligraphy performance, which she uses huge brush to write letters in various ceremonies. She is extensively quoted in the media and teach calligraphy to famous celebrities on TV and magazines.
Her objective is to broaden "The calligraphy conveying peaceful mind" to all over the world.
Enterprises
Japan Post Office
Hino Motors, Ltd.
Asahi Breweries Ltd.
Calbee,Inc.
Mitubishi Electric Corporation
SUNRISE Inc.
CAPCOM CO., LTD
SQUARE ENIX., LTD
WARNER MUSIC JAPAN
TOKUMA SHOTEN PUBLISHING CO., LTD.
(SOTEN NO KEN)
Mitsubishi Corporation

Performances
N.H.K Japan Broadcasting Corporation
Isetan Mitsukoshi Ltd.
Metropolitan police department

Overseas
Times Square New Year's Eve Celebration
(TOSHIBA VISION countdown animation)
FLO RIDA WILD ONES (Japanese title)
FLO RIDA R.O.O.T.S (Japanese title)
JOSH GROBAN (Japanese title)

Exhibitions
GINZA ,TOKYO (2007 / 2010 / 2015)

Awards
The 34th Current Rinsho Exhibition
Won the excellent award of "The 42nd Exhibition International Calligraphers"